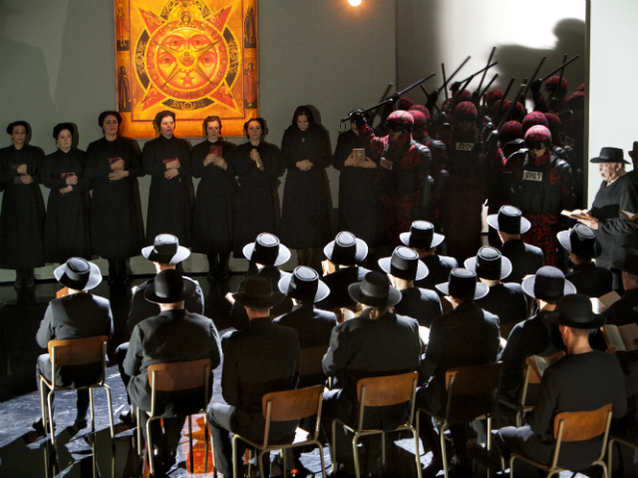 © DR
Description
New coproduction with the English National Opera
In this monumental folk opera Modest Mussorgsky describes the turbulent transition from the old to the new age in Russian history.
What was originally intended as a tribute to Tsar Peter became a critical, pessimistic drama of ideas. The story begins in 1682 with the death of the young Tsar Fyodor III, who had no legitimate heir. As a consequently, three ideological groups faced up to each other: the power-hungry conservatives, the reformists and the Old Believers. With his armed guard, the 'Streltsi', Prince Ivan Khovanski provoked a revolt. It is known in the Russian chronicles as 'Khovanshchina' or 'the Khovanski case'.
Mussorgsky conceived his opera with lofty melodic vocal lines that are partly an expression of the aristocratic status of the protagonists, and partly a mystical longing for a better world. The final chorus of the opera, the collective self-immolation of the Old Believers, is considered to be one of the most poignant scenes in the Russian repertoire. The American director David Alden was acclaimed by Opera Vlaanderen audiences for his gripping Peter Grimes (Britten) and now returns for a new Russian episode.
With this production, the conductor Dmitri Jurowski further extends his exploration of the Russian opera repertoire. In a division of roles that boasts some impressive bass voices, we also hear the Croatian bass Ante Jerkunica and the Russian bass Alexey Tikhomirov. Russian mezzo-soprano Elena Tina Manis sings the poignant role of Marfa
More information is available on the operahouses's official website
Schedule
October 31, 2014 19:00:00
November 02, 2014 15:00:00
November 04, 2014 19:00:00
November 05, 2014 19:00:00
November 07, 2014 19:00:00
November 08, 2014 19:00:00
November 26, 2014 19:00:00
November 28, 2014 19:00:00
November 29, 2014 19:00:00
November 30, 2014 15:00:00
December 02, 2014 19:00:00
Casting
Alexey Antonov
Aylin Sezer
Work's characters list
Director
Prince Ivan Khovanski
Prince Ivan Khovanski
Prince Andrei Khovanski
Prince Vassili Golitsine
Fedor Chakloviti
Dosifei
Dosifei
Marfa
Marfa
Susanna
Le Clerc
Emma
Varsonofiev
Strechniev