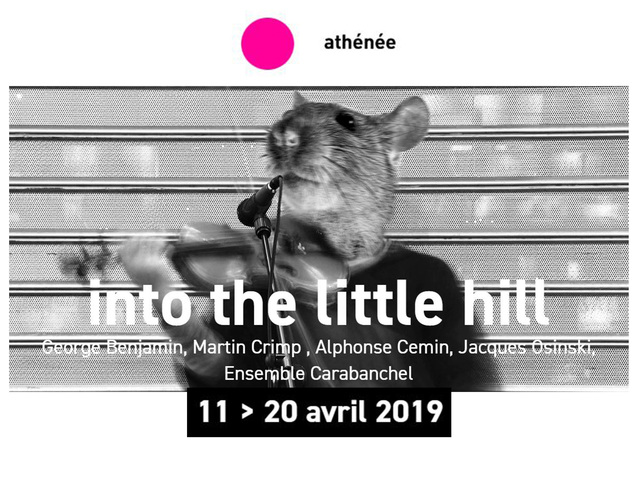 © Copyright all right reserved
General Information
Production title :

Into the little Hill - Athénée Théâtre Louis-Jouvet (2019)

Work - Composer :

Into the little Hill

-

George Benjamin

Opera house :Athénée Théâtre Louis-Jouvet
Description
With Camille Merckx and Elise Chauvin.
George Benjamin's first opera, thirteen years after its premiere in Paris, is taken up again: a captivating lyric tale with contemporary resonances.
In this childish and cruel tale, which recounts the story of the Hamelin flute player in the light of recent history, only two female voices (here the sopranos Camille Merckx and Elise Chauvin) hold all the roles: the narrator , the people, the minister, the stranger, the woman, the child. They are carried by the subtly crafted music of George Benjamin, luminous score for fifteen musicians. Alphonse Cemin, well known as a pianist of the ensemble Le Balcon, is at the head of the Carabanchel ensemble. In opening, judicious choice of Flight, part for flute of Benjamin which announces the atmosphere of the opera.
More information is available on the official website of the Theater.
Schedule
April 11, 2019 20:00:00
April 13, 2019 20:00:00
April 16, 2019 19:00:00
April 17, 2019 20:00:00
April 19, 2019 20:00:00
April 20, 2019 20:00:00
Work's characters list
Director
Conductor
Interprète 1 (The crowd/ The Foreigner/ Narrator/ The Minister's daughter)
Interprète 2 (The crowd/ The Minister/ Narrator/ The wife of the Minister)