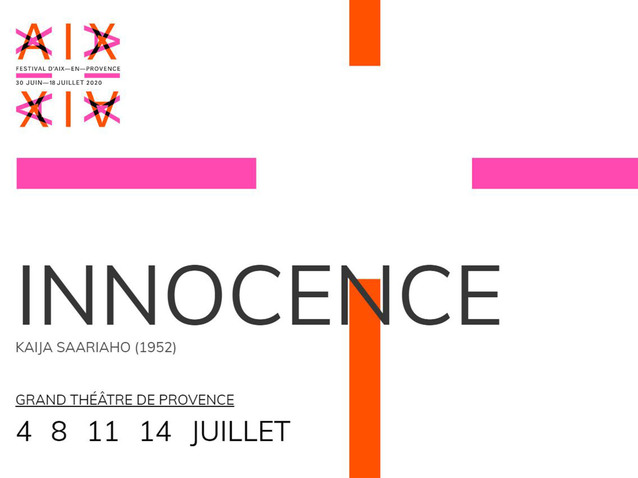 © Festival d'Aix-en-Provence
Description
World Premiere, coproduction with San Francisco Opera, Dutch National Opera, Finnish National Opera and Ballet, Royal Opera House.
"It is a typical wedding for a cosmopolitan city, in present-day Finland. The fiancé is Finnish, the bride Romanian, and the mother-in-law French. But suddenly, during the wedding banquet, the Czech waitress feels ill…. Ten years earlier, these characters were struck by a tragic event. Ghosts revive their memories of the trauma, which occurred in a school; there is a guilty haze, a lost innocence. Kaija Saariaho's new opera is the result of a meeting between this great composer and another Finish artist, the novelist Sofi Oksanen, who is unrivalled in her ability to force today's reality to confront the past. Innocence—their vast choral drama for soloists, choir and orchestra— is a contemporary tragedy made radiant through its powerful music and the intermingling of words from different languages. With this world premiere, conducted by musical director Susanna Mälkki and staged by the Australian theatre director Simon Stone, the Festival d'Aix writes a new page in the history of opera and gives life to a work that will also be performed in Amsterdam, Helsinki, London and San Francisco."
More information is available on the official website of the festival.
Following the measures adopted by the government as part of the fight against the spread of the COVID-19 coronavirus, the 2020 edition of the festival had to be canceled.
Schedule
July 04, 2020 20:00:00
July 08, 2020 20:00:00
July 11, 2020 20:00:00
July 14, 2020 20:00:00
Casting
Vilma Jää
Simon Kluth
Camilo Delgado Díaz
Marina Dumont
Work's characters list
Director
Conductor
Waitress (Tereza)
Mother-in-Law (Patricia)
Father-in-Law (Henrik)
Bride (Stela)
Groom
Priest
Teacher (Cecilia)
Student 1 (Marketa)
Student 2 (Lilly)
Student 3
Student 4
Student 5 (Jeronimo)
Student 6