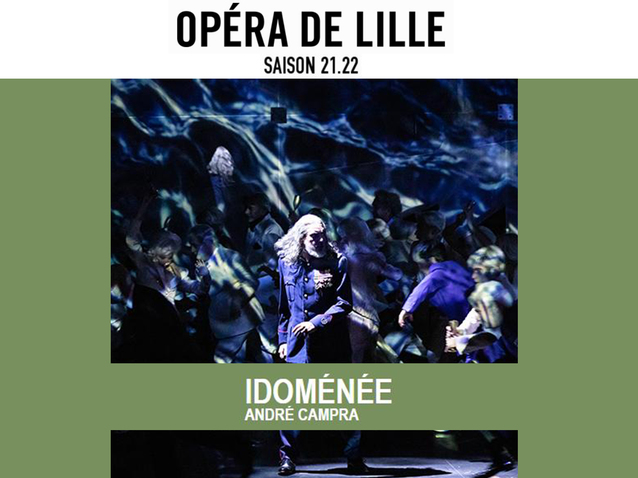 © Copyright all right reserved
General Information
Production title :

Idoménée - Opéra de Lille (2021)

Creation date :

24/09/2021

Work - Composer :

Idoménée

-

André Campra

Opera house :Opéra de Lille.
Description
New production.
We expected this Idomeneus last season, but it was given in a minimalist and intimate version (which we attended), cut out for the vagaries of a particular period. "A luxury for the authors and performers of the show, who have was able to work a year in advance, as in a laboratory, under the watchful eye of the public ", before the work was staged this season.
More information is available on the official website of the opera house.
Schedule
September 24, 2021 20:00:00
September 26, 2021 16:00:00
September 28, 2021 20:00:00
September 30, 2021 20:00:00
October 02, 2021 18:00:00
Casting
Lucy Page
Cécile Dalmon
Emmanuelle Ifrah
Cécile Granger
Cécile Dalmon
Work's characters list
Director
Conductor
Idoménée
Vénus
Idamante
Electre
Ilione
Ilione
Arbas
Protée
La Jalousie
Némésis
Eole
Neptune
Arcas
Une Crétoise
Une Troyenne
Première Bergère
Deuxième Bergère