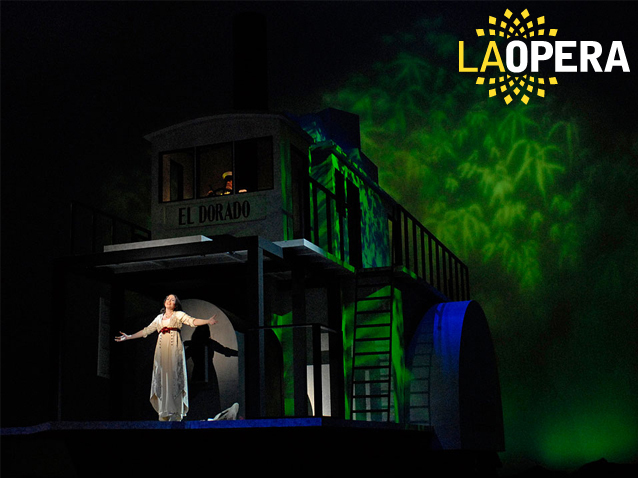 © Copyright all right reserved
General Information
Production title :

Florencia en el Amazonas - Los Angeles Opera (2014)

Work - Composer :

Florencia en el Amazonas

-

Daniel Catán

Opera house :Los Angeles Opera
Description
A steamboat passage through the fabled rainforest becomes a mystical voyage of discovery, each passenger harboring secret hopes of what the trip will bring. Among them, a famous prima donna hopes to recapture the great love of her life. Reality and fantasy intertwine as the dangerous splendors of the Amazon test the travelers' preconceptions of their hopes and dreams.
The sensational Chilean soprano Verónica Villarroel returns as Florencia, joined by a stellar cast that also includes fast-rising soprano Lisette Oropesa. A ravishingly beautiful score by Daniel Catán, the beloved composer of Il Postino, shimmers with passionate melodies and sumptuous orchestrations reminiscent of Puccini and Debussy. Inspired by the writings of Gabriel García Márquez, Florencia en el Amazonas paints an intoxicating portrait of the transformative nature of love.
Revival of a co-production of LA Opera with Houston Grand Opera, Seattle Opera, Opera de Colombia, and the Opera de Bellas Artes & Festival Internacional Cervantino.
More information is available on the operahouse's official website.
Schedule
November 22, 2014 19:30:00
November 30, 2014 14:00:00
December 10, 2014 19:30:00
December 14, 2014 14:00:00
December 18, 2014 19:30:00
December 20, 2014 19:30:00
Casting
Verónica Villarroel
José Carbó
Nancy Herrera
Gordon Hawkins
Work's characters list
Director
Florencia Grimaldi
Riolobo
Rosalba
Arcadio
Paula
Alvaro
The Captain