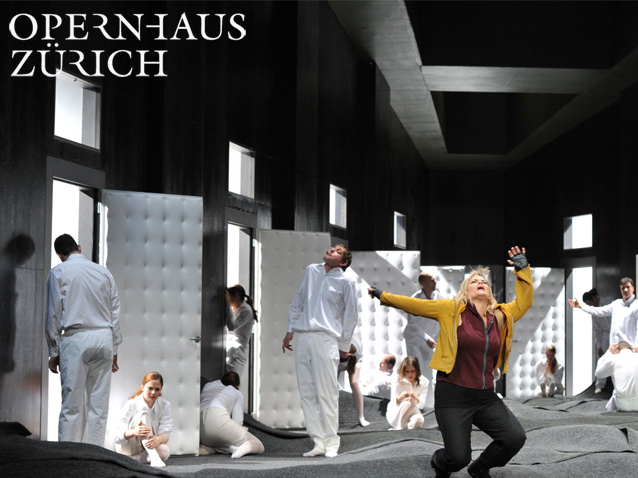 © Opernhaus Zürich
Description
Scarcely had audiences overcome the shock of Salome than Richard Strauss presented his Elektra at the beginning of the 20th century; in its radical harmonies and emotional power it even exceeded Salome. With an enormous orchestra, the composer unleashed sounds that had never been heard before and whose wild expressionism has lost none of its impact to this day. The archaic subject matter is as terrifying as it is fascinating: a young woman – Electra – remains alive solely for the idea of avenging her father's murder. When vengeance has been exacted and her brother Orestes has killed their mother Clytemnestra and her lover Aegisthus, Electra dances an ecstatic dance, at the climax of which she collapses and dies.
In this revival of Martin Kušej's much-lauded production, Evelyn Herlitzius, recently celebrated in Aix-en-Provence as the "ideal Electra", will sing the title role. Hanna Schwarz can be heard as Clytemnestra, and Emily Magee returns to Zurich Opera as Chrysothemis. The young German conductor Lothar Koenigs will be performing at Zurich Opera House for the first time.
More information is available on the operahouse's official website.
Schedule
June 28, 2015 20:00:00
July 03, 2015 19:00:00
July 10, 2015 19:30:00
Casting
Alexandra Tarniceru
Ivana Rusko
Work's characters list
Director
Conductor
Klytämnestra
Elektra
Chrysothemis
Aegisth
Orest
Der Pfleger des Orest
Die Vertraute
Die Schleppträgerin
Ein junger Diener
Ein alter Diener
Die Aufseherin
Die fünfte Magd
Die vierte Magd
Die dritte Magd
Die zweite Magd
Die erste Magd