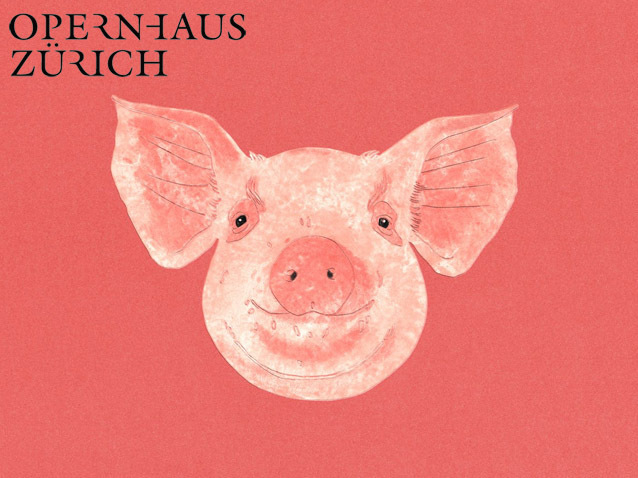 General Information
Production title:

Das Verzauberte Schwein - Opernhaus Zürich (2015-2016)

Creation date:

14/11/2015

Work - Composer:

Das Verzauberte Schwein

-

Jonathan Dove

Opera house:Opernhaus Zürich.
Description
New production
A musical fairy tale for children from the age of 6
Libretto by Alasdair Middleton, German version by Peter Lund
German-speaking world première
King Hildebrand is going to war. Before his departure, he issues important instructions to his three daughters Mab, Dot and Flora, who are all dreaming of a fairy-tale prince: they should not kiss any frogs, keep well away from gingerbread houses, and never play with spindles. Furthermore, on no account must they ever open the door to the forbidden room! Now, of course, the inevitable comes to pass: the princesses are irresistibly drawn to the door, and in the forbidden room, Mab, Dot and Flora find the book of destiny in which their future is written. Mab and Dot will soon marry the princes they have so longed for – but Flora's husband is to be a pig! While the horrified Flora still hopes that this is all a mistake, her father returns from the war – and with him the King of the West and the King of the East, Mab and Dot's respective bridegrooms. Flora fears the worst – and indeed, an unpleasant odour spreads throughout the palace, and suddenly a pig is there, demanding that his wife accompany him! As the book of destiny has been opened, there is no turning back. Although it soon transpires that the pig is an enchanted prince, this is just the beginning of Flora's problems… She courageously takes her fate into her own hands and embarks on a long journey to the end of the world and beyond in order to save her prince.
With this musical fairy tale of 2006, the British composer Jonathan Dove created a fast-paced, witty and yet profound piece that has already thrilled children and adults alike in Britain  and the United States. A German version of The Enchanted Pig, wittily translated by Peter Lund, can now be seen for the first time.
More information is available on the opera house's official website.
Schedule
November 14, 2015 17:00:00
November 22, 2015 14:00:00
November 29, 2015 11:00:00
December 05, 2015 10:30:00
December 16, 2015 10:30:00
December 17, 2015 10:30:00
December 17, 2015 14:00:00
December 26, 2015 14:00:00
December 29, 2015 19:00:00
January 02, 2016 14:00:00
January 08, 2016 10:30:00
January 10, 2016 14:00:00
March 13, 2016 14:00:00
April 02, 2016 10:30:00
Casting
Ivana Rusko
Lin Shi
Alex Lawrence
David Margulis
Work's characters list
Director
Conductor
König Hildebrand
Mab, seine älteste Tochter
Dot, seine mittlere Tochter
Flora, seine jüngste Tochter
Das Buch des Schicksals
Der König des Westens, Prinz
Der König des Ostens, Die Sonne
Das Schwein
Herr Nordwind
Frau Nordwind
Frau Nordwind
Die Alte Frau
Adelaide, ihre Tochter
Der Mond
Der Tag