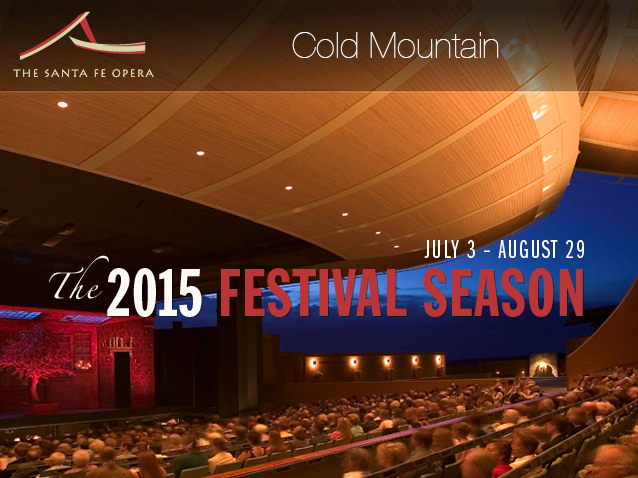 © Copyright all right reserved
General Information
Production title :

Cold Mountain - Santa Fe Opera (2015)

Creation date :

01/08/2015

Work - Composer :

Cold Mountain

-

Jennifer Higdon

Opera house :Santa Fe Opera
Description
World premiere
Anticipation is high for the world premiere of Cold Mountain. Three years in the composition and
planning, this compelling story of love, honor and determination is ready for the stage. The novel sold
three million copies, and the movie was a huge popular success. The story, now well known, is about
Inman, a Confederate army deserter who walks from his hospital room in Raleigh, North Carolina, across
the state to his home at Cold Mountain. The journey is arduous and recalls Homer's Odyssey. Inman
continues in spite of many hardships and is reunited with his love, Ada. The opera will be performed in
Philadelphia in February, 2016 and in Minnesota at a date to be determined. The Opera is pleased to
collaborate with the Civil War Trust in the development of education activities for the premiere of Cold
Mountain.
More information is available on the opera house's official website.
Schedule
August 01, 2015 20:30:00
August 05, 2015 20:00:00
August 14, 2015 20:00:00
August 17, 2015 20:00:00
August 22, 2015 20:00:00
Work's characters list
Director
Ada
Ruby
Teague
Inman
Monroe
Soldier
Guard
Stobrod
Blind Man