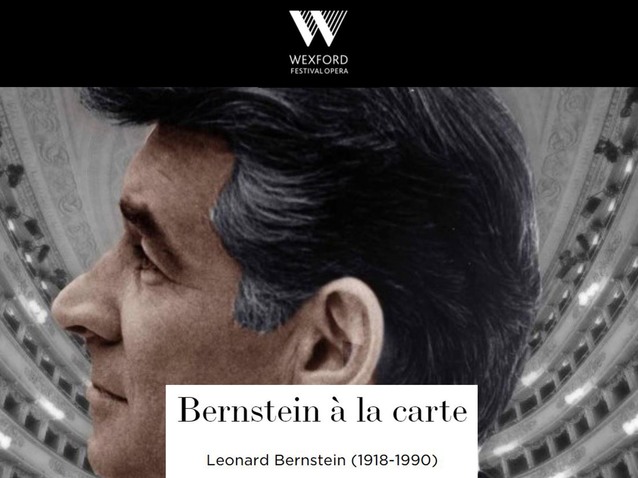 © Copyright all right reserved
General Information
Production title :

Bernstein à la carte - Wexford Festival (2018)

Creation date :

21/10/2018

Work - Composer :

Récital

-

Compositeurs divers

Opera house :Wexford Opera
Description
The Wexford Festival celebrates composer, conductor, author, music teacher and American pianist Leonard Bernstein. His fame comes from his long career as Music Director of the New York Philharmonic Orchestra, his concerts with most of the world's leading orchestras and his music for West Side Story, Peter Pan, Candide, Wonderful Town, On the city, On the waterfront, and many other compositions, including three symphonies and many chamber works and shorter solos. In fact, as a composer, he has experimented with various styles, including symphonic and orchestral music, ballet, film and theater music, choral works, opera, chamber music and music. pieces for piano. Many of his works are still regularly performed around the world, although none is worth the tremendous popular and critical success of West Side Story.
Roberto Recchia, a regular at the festival, will lead the celebration, which is as follows: a group of singers organizes a birthday party for Leonard Bernstein. They wait, everything is ready, but the guest of honor is late. While they wait, they play, they sing, they read excerpts from his letters. The result is a colorful musical portrait of one of the most appreciated composers and conductors.
The program will include solos and excerpts from Bernstein's most famous musicals, as well as some of his lesser-known songs (including the two cycles I hate singing and La bonne cuisine).
Tina Chang will direct this concert.
More information is available on the official website of the festival.
Schedule
October 21, 2018 11:00:00
October 25, 2018 15:30:00
October 28, 2018 11:00:00
November 01, 2018 15:30:00
Casting
Emma Nash
James Liu
Work's characters list
Director
Interprète
Interprète
Interprète
Interprète
Interprète
Interprète