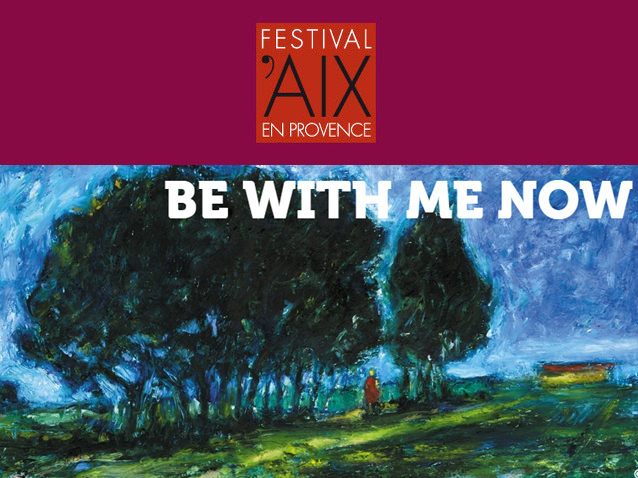 © Copyright all right reserved
General Information
Production title :

Be With Me Now - Festival d'Aix-en-Provence (2015)

Creation date :

2015

Work - Composer :

Be With Me Now

Opera house :

Conservatoire Darius Milhaud
Description
Musical performance for five singers and four instrumentalists
World premiere
Cast :
Mise en scène : Julien Fišera*
Conception et dramaturgie : Isabelle Kranabetter* et Julien Fišera*
Direction musicale : MaNOj Kamps*
Décors et costumes : Samal Blak
Lumière : Kevin Briard*
Dispositif vidéo : Jérémie Scheidler
Tournage vidéo : Pascal Poissonnier

Soprano : Maartje Rammeloo
Pamina : Rannveig Káradóttir
Mezzo-soprano : Kinga Borowska*
Tamino : Gwilym Bowen / Ioannis Kalyvas
Baryton : Tomasz Kumiega
New production of the Festival d'Aix-en-Provence of the Académie du Festival
In coproduction with Aldeburgh Music, the Bayerische Theaterakademie August Everding, the Calouste Gulbenkian Foundation, the Queen Elisabeth Music Chapel, the Dutch National Opera & Ballet, LOD musical theater and the Teatr Wielki - Polish National Opera
With the support of enoa
For the fifth anniversary of enoa, the Académie du Festival d'Aix will start performing Be With Me Now. This musical performance finds its origin in The Magic Flute. In the midst of the performance, Tamino leaves the stage and starts off a journey in quest for a lost love throughout four centuries of music and all around Europe. Thanks to the video montage, the audience follows him from one capital to another, guided by the music only. Tamino's journey strings together extracts by Britten, Lambert, Bellini, Stravinsky and Handel as well contemporary pieces commissioned from Daan Janssens and Vasco Mendonça, which all highlight the vitality of the opera tradition in Europe today.
More information is available on the festival's official website.
Schedule
July 07, 2015 18:00:00
July 09, 2015 18:00:00
July 10, 2015 18:00:00