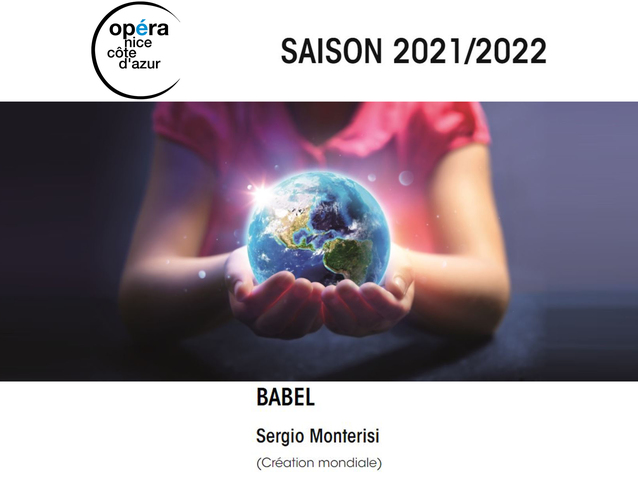 © DR
General Information
Production title:

Babel - Opéra Nice Côte d'Azur (2022)

Creation date:

21/06/2022

Work - Composer:

Babel

-

Sergio Monterisi

Opera house:Opéra Nice Côte d'Azur.
Description
World premiere.
Location: Second stage La Diacosmie.
"In this new creation by Magali Thomas (concept, original libretto and staging) and Sergio Monterisi, CM1 and CM2 children from Nice schools will once again take on the role of protagonists, alongside four adult soloists who will perform Les Génies des elements, Wizard Ozone and the spirit of Magma Earth."
More information is available on the official website of the opera house.
Schedule
June 21, 2022 10:00:00
June 21, 2022 14:30:00
June 22, 2022 15:00:00
June 23, 2022 10:00:00
June 23, 2022 14:30:00
June 24, 2022 10:00:00
June 24, 2022 14:30:00
June 25, 2022 11:00:00
June 25, 2022 15:00:00