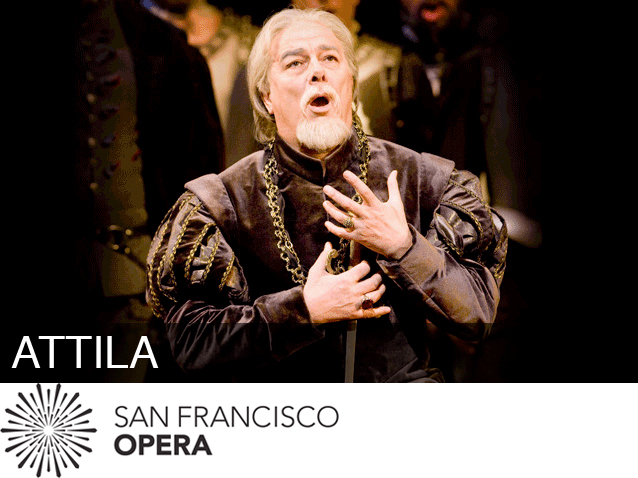 © San Francisco Opera
Description
The ruler of the Huns fully intends to invade fifth-century Italy until a fierce female captive enchants him with her valiant defiance. In the popular imagination, Attila the Hun was a ruthless barbarian. But to Giuseppe Verdi, he was a far more complex and compelling figure: a brave, ambitious warrior tormented by fierce internal doubts. The intense, conflicted anti-hero comes vividly alive in this "vibrant and engrossing musical drama" (The New York Times). 

Music Director Nicola Luisotti, a "superb Verdi conductor" (Sunday Times, London), leads a world-class cast featuring bass Ferruccio Furlanetto, whose "strong, dark, textured voice filled Verdi's lines with burnished sound and arching lyricism" (The New York Times), in the title role; exciting young Venezuelan soprano Lucrecia Garcia; "powerful, liquid tenor" Fabio Sartori (Associated Press); and "brilliant…magnificent" baritone Quinn Kelsey (San Francisco Chronicle). Legendary bass Samuel Ramey, whose "superb" performance (San Francisco Chronicle) in the title role of the Company's 2008 Boris Godunov won him critical praise, returns as Pope Leo I.
More information on the San Francisco Opera website.
Schedule
June 12, 2012 20:00:00
June 15, 2012 20:00:00
June 20, 2012 19:30:00
June 23, 2012 20:00:00
June 28, 2012 19:30:00
July 01, 2012 14:00:00
Work's characters list
Director
Conductor
Attila
Ezio
Odabella
Foresto
Foresto
Leone