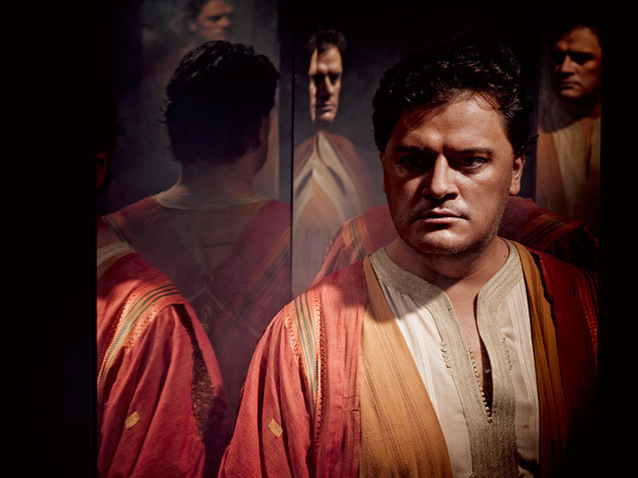 Opening Night at the Met is like no other night. It is that night when the show is as much on stage as it is in the audience, when the most classical tuxedos leave space to the craziest, fanciest and brightest gowns. Opera aficionados are happy to see each other and are catching up like school kids after a summer vacation while more "notable" New Yorkers slowly and strategically walk the red carpet so it does not look like they are holding up before they get in front of the step-and-repeat. The smell of champagne is strong, bottles keep popping and if you do not pay close attention, you will step on someone's gown. It is one of those New York nights where it is important to be seen, which is mainly why the audience does not sit and wait for the performance to begin. Quite the contrary, the musicians have to wait until everybody is finally ready to sit down, which happened that night forty minutes after schedule –here is your regular Opening Night Gala at the Met.
The choices the Met makes for Opening Night are always full of meaning and it is always interesting to try to decipher them to better understand where the prestigious opera house is heading. The previous production by Elijah Moshinsky was not particularly bad but was rather classical: Peter Gelb, managing director, made a vow to eliminate those productions from the repertory and replace them with modern looking/dust free productions –one more off the list. Bartlett Sher, who directed this production of Otello, has been Gelb's go-to director for the past 9 years and has never had a scandalous Opening Night at the Met to date, so he is always a pretty safe choice. Safe would be a good adjective to describe this new production which never takes risks, is not particularly inventive but is still aesthetically bold enough to be discussed. Two angled walls close the back of the stage. On these two walls, Sher uses video projections, mostly a wavy and techy spectrum: the Mediterranean sea. At times the tempest rages but it also gets calmer as the story unrolls. I found those projections not particularly tasteful and out of place in a 19th century setting. Huge doors open on the back walls and plexiglass walls imitating the ones of a Venetian palace are able to roll in and form open or intimate spaces. Characters can walk through, around and in these walls. The system is indeed practical but gets old after four acts.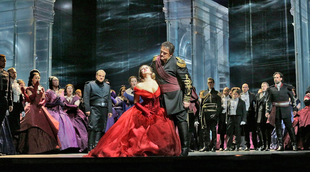 Another interesting choice for this night was Sonya Yoncheva. Last year, after her triumph in La Bohème, Gelb announced in an interview that he wanted Yoncheva to be one of the Met's big stars. Sonya Yoncheva, at 33, confirmed that night that she had what it takes. I am perfectly aware of the fact that I repeat myself, but the combination of Yoncheva's impression of fragility on stage and full-yet-sharp, effortless and precise sound gets me every time. She is simply irresistible and heartbreaking from the love duet in Act 1. Yoncheva always explores and capitalizes on the duality of the roles she picks: thus, she portrays Desdemona's vulnerability perfectly while compensating it by showing the valiance and resignation of her character, two forces that lead her to the ultimate sacrifice. Yoncheva's "Ave Maria"was to die for.
She ended up being that night's big sensation, followed closely by Željko Lučić's incredible Iago. "I believe in a cruel God who created me in his image and who in fury I name. From the very vileness of a germ or an atom, vile was I born" sings Iago in Act II. Lučić, through the whole opera, is exactly that. He plays a vile, disgusting, dreadful, genius Iago. Lučić's Iago seemed more like a demonic force haunting the opera than Otello's actual rival. That is actually Sher's production's best effect. Lučić, a natural actor, is able to render it brilliantly by remarkably getting rid of any form of charisma. You end up hating Iago, something that does not always happen with other singers in the same role. The singing follows the excellence of the acting. It is brave, precise and confident with no artificiality. Again, pretty scary. Unfortunately, Aleksandr Antonenko's Otello always seemed to lag behind the other two leads. Unlike Yoncheva and Lučić, Antonenko is not a gifted actor – at times that cruel fact provoked some embarrassing but understandable laughs from an inexperienced audience (unfortunately for Antonenko, half of the house that night). Vocally, in his lows and mediums, it always sounded like Antonenko was trying to center his pitch. He struggled with his pianos and mezzo fortes all night, always sounding shaky. The high notes however were all centered with huge sound – even though they could have used more air spinning so they could have sounded less "white" – and were here to remind you why the Met had casted the tenor for the run: not only because Antonenko was probably one of the only tenors on the circuit who was brave enough to accept to sing the impossible role with such media exposure but also because his volume and endurance seemed infinite. Hopefully, he will get more comfortable as the run unfolds. Nézet-Séguin is loved by the Met's audience and by the orchestra, which as usual played beautifully under his direction. The fact that he opens the season shows that he is a serious contender for James Levine's succession.
Opening Night 2015 ended with a tamed standing ovation and a few isolated boos for the production team. Indeed, this really unequal Otello left the audience unsure as it disappoints exactly as much as it rejoices.
Thibault Courtois
@thibopera
Otello at the Met Opera | from September 21, 2015 to May 06, 2016
the 26 of September, 2015
|
Print