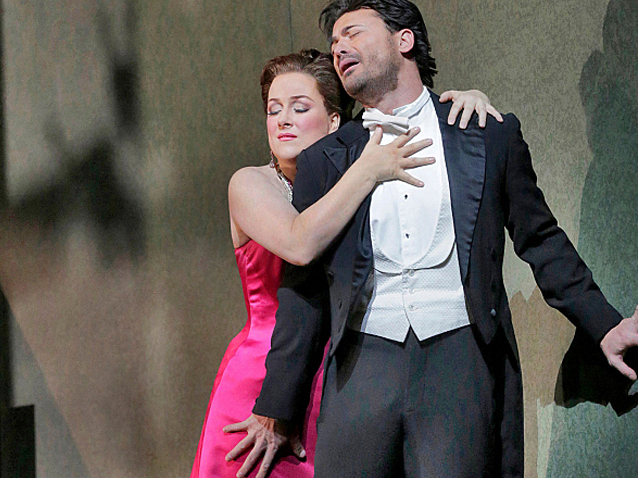 The Met has gathered a lot of French talent around this short run of Massenet's Manon: the bass-baritone Nicolas Testé as Count des Grieux, the tenor Christophe Mortagne as Guillot, Emmanuel Villaume in the pit, all of them in a production by Laurent Pelly. Vittorio Grigolo and Diana Damrau star as Des Grieux and Manon.
Mr. Grigolo is now at home at the Metropolitan Opera where he gave a recital and sang in three different productions in the last year. Grigolo's energy, passion and ease on stage are incomparable: his dynamism, mobility and athleticism really made a difference in his interpretation of the young and passionate Des Grieux. Grigolo has really tamed himself in the past two years. That night proved again that his acting is no longer overwhelming. Vocally, there has been some major improvement as well, notably in his nuances which are now more precise and vibrant. He is one of the main figures of this polyvalent new generation of singers: athletic, good looking, great actors who can also sing an operatic role from the beginning to the end quite well. Diana Damrau is also one of them. She started as a coloratura but has adopted darker roles in the past years, the role of Manon being one of them. She seemed uncomfortable in the first two acts, where her part tends to hang in the low registry. Often, she was completely covered by the orchestra despite Villaume's visible effort to reduce his musicians' volume. Fortunately, her part opens up in Act III and we got to see a completely different Diana Damrau right after the first intermission. As the voice was hitting perfectly centered high notes, she painted Manon's passion, madness and immaturity vividly and regained all her volume.
In the second roles, Christophe Mortagne really stood out with his interpretation of Guillot. Laurent Pelly obviously had plans to make the role comical and Mortagne, with his experience in French Opérette could probably do it better than anyone else : the audience would laugh at any of his interventions. The recitatives, beautifully declaimed in the purest French tradition were absolutely hilarious. Nicolas Testé was a fearful Count Des Grieux. His commanding ring projected nicely around the house. Russell Braun as Lescaut and Dwayne Croft as Brétigny also did solid work.
As it is often the case, Laurent Pelly's production is extremely careful with the music. It is never overwhelming, the sets are as light as Massenet's phrases, the chorus/crowd movements are always quiet and thought with the music. There is however one major problem with the sets: they were not made for the huge Met Opera stage as this work is a co-production with the Royal Opera House, La Scala and Théâtre du Capitole in Toulouse, much smaller stages. Therefore, the open sets of Act 1, 2, 3 and 5 tend to swallow the singers' voices. However, the fourth act features walls in the back and on the sides and gives much more resonance to the singers. It is surprising that this issue has not been addressed for this revival.
Damrau and Grigolo formed a great duo: the juvenile intensity they put in their character matched perfectly. At the end of the opera, when Manon dies in Des Grieux's arms, all the tension and pain accumulated came out in a frightening cry from Grigolo, the fright coming from the fact that this cry was shouted and not sung, which is a pretty risky thing to do and shows how technically fearless Vittorio Grigolo has become. As the curtain went down, the audience was stunned. Both got a well deserved standing ovation.
Thibault Courtois
@thibopera
the 25 of March, 2015
|
Print