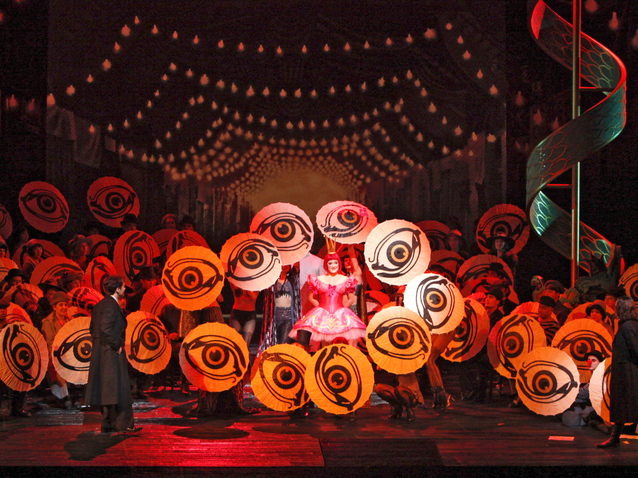 © DR
            The perfect opera nights are what we are all craving for. How much does it take for your opera experience to feel perfect? Dozens of singers, musicians and technicians have to be perfectly in sync for several hours, which is already something: the basics we all agree on. Then, it gets more personal. Who is singing? Do you need this big name on the program for your night to be perfect? Your seat? Close enough? Does someone tall is seating right in front of you, obstructing a good 30% of the stage? Is your maximum tolerance at 25%? Did you manage to steal an orchestra seat with your second balcony ticket? That makes a big difference. Who are you with? What and where did you eat? What did you drink? Which aria do you need masterly executed? It is different for all of us. However, it appears that there are two common characteristics for all perfect opera nights: they are unexpected and impossible to deconstruct. These Contes d'Hoffmann were nothing short than extraordinary, in a way that cannot really be explain. Let's still give it a try.
            Vittorio Grigolo was announced sick right before the performance and said through a production assistant he would do his best, which was truly unnecessary. Grigolo has a true tenor voice and a natural ring, which sets him apart from a whole lot of tenors on the circuit. His voice is not frontal and his ring way less nasal than other tenors. That itself makes him special. Through all the nuances of the score and his whole range, his voice keeps the same color and does not need much technique and effort in order to be pushed. Grigolo was always at ease as Hoffmann, going through this tough role with great energy and generosity from the beginning to the end. His acting, just like his singing, was perfectly on point with no extra mannerism: a recent and very welcome change. He was the biggest surprise of the night.
            The second was Kate Lindsey as Nicklausse / The Muse. As a recent graduate of the Met Opera's Young Artist Development Program, people in New York are now familiar with her since she has appeared numerous times at the Met. Lindsey has it all: the looks, the voice, the technique and on top of that, she is an unbelievable actress. In this production of Les Contes d"Hoffmann, Nicklausse is constantly on stage; "Il faut en cette heure fatale qu'il choisisse entre nos amours, qu'il appartienne à ma rivale ou qu'il soit à moi pour toujours !" says Nicklausse in the Prelude of the opera: "At this crucial moment, Hoffmann must choose between our loves: will he belong forever to me or to my rival?". Bartlett Sher, director of this production, obviously paid a lot of attention to this line: Nicklausse is always standing with Hoffmann, serving him and helping him through his journey. Meanwhile, we often see her double, The Muse, assisting the four villains in stealing or killing Hoffmann's successive lovers. The ambiguity of Nicklausse is really well underlined in Sher's staging and works perfectly with the libretto, adding an extra layer of meaning to the plot. Lindsey can deal with the complexity this ambiguity involves like no one else: in Sher's staging, Nicklausse is constantly on stage, observing and interacting with the sets or other roles when she is not singing: for 3 hours, whenever you look at Lindsey, she is doing something, and whatever she is doing, you feel like thanking her for either making you laugh, clarifying the plot or just making this look prettier. Let's face it: Les Contes d'Hoffmann is not the easiest libretto of opera history. But thanks to Sher's staging and Lindsey's perfect interpretation of it, Les Contes d'Hoffmann are here as clear as they can be.
            No one has sung the four female roles at the Met in 15 years. That night was no exception to what seems to have become the new norm, even though Anna Netrebko was scheduled to sing all the female roles for the first run of this production in 2009 but backed out a few weeks before the premiere. Erin Morley's Olympia won the house. She was funny, hit every single high note and even added some for the show. People loved it and obviously would have wanted to see more of her. Hibla Gerzmava's round and full voice makes a moving and captivating Antonia. Christine Rice's Giulietta was spotless and mesmerizing. Legendary baritone Thomas Hampson was not completely at ease with the four vilains, struggling at times in the low range, but still managed to look and sound quite frightening. In the pit, Yves Abel had a great time   putting the performance together and everything sounded as well as one could have wished. Finally, the Met Opera choir shows one more time it deserves to rank amongst the best opera choirs in the world. The great choruses of this opera were perfectly rendered in very precise French, a rare and precious thing. The perfect opera night, as I said.
the 28 of January, 2015
|
Print