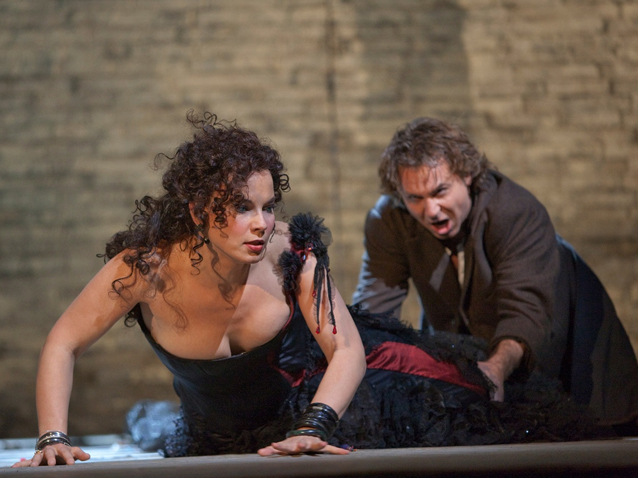 "Roberto Alagna and Jonas Kaufmann take turns playing Carmen's desperate lover, Don José" may be a quote from the online brochure of the Opera House you started in one of your opera fanatic dreams. In real life, it is a quote from the Metropolitan Opera's website. Jonas Kaufmann will be singing for the last two shows of the run early March while Roberto Alagna has covered the whole month of February.
Any good vocal coach will tell you that French is the hardest language to sing. Because of its pronunciation of course, but also because a lot of its sounds are hard to "project". Paradoxically, it is especially true for French singers: simply put, in order to sing in French, they need to relearn their own language. I must admit that I had never heard a singer performing live  from whom I could understand every single word, until that night. How Alagna does it is still a mystery to me. But when he sings, his diction is so clear that you cannot help feeling like he speaks directly to you and this is truly mind blowing. In terms of "projection", Alagna has one of the biggest voices of the circuit. If the volume is impressive, the fact that the diction stays crystal clear and the pitch absolutely centered in his fortissimos take his singing to a very, very rare level. What is the most admirable is that he manages to make his vocal technique disappear completely: his performance was never about Alagna singing, it was not even about the music: it was just Don José, again, speaking directly to you through an invisible lyrical tenor screen. Hence, his interpretation of the character was simply amazing. The first act will let you see a loving and very naive Don José in every gesture and faces Alagna makes. When the third act begins, Alagna creates a metamorphosed and barely recognizable character. He is weak, grim, his features are tortured; even the sound seems darker. The finale was an incredible explosion of rage and madness. His flower song was devastating just like the first duet with Ailyn Pérez (Micaela), "Ma mère, je la vois". I was not the only one with tears in my eyes.
The soprano, as she candidly says in her main aria in the third act, was not frightened at all for her Met debut. She sang a very moving Micaela by always finding the right balance between the bravery and the fragility of her character. Needless to say, Elina Garanca was an irresistible and hypnotic Carmen. Richard Eyre's stage direction is particularly exigent for the role of Carmen, but it never seemed to be a problem for Garanca who was openly having a blast on stage playing with extras, dancing constantly and charming Don José and a captivated audience. Some critics have called this production vulgar and admittedly other mezzos may have made it look that way in the past: there is a lot of sexual tension in the stage direction and it is a fine line to work around. Garanca did it with great elegance and pitch-perfect seduction. Her voice followed the same direction: she still managed to give you the chills with the popular arias that you thought could not surprise you anymore. Her phrases were ample, vibratos were worked on from the lowest point to the top, but still, sometimes, Carmen's impertinence and wildness came out in edgier and raging singing – again, irresistible and let's admit it, very sexy. Gábor Bretz's Escamillo seemed a bit constrained during his toreador song but the voice opened up nicely as the opera went along. All the second roles did solid work, especially Carmen's two accomplices, Danielle Talamantes and Ginger Costa-Jackson.
Roberto Alagna and Elina Garanca both sang in the first run of Richard Eyre's production in 2010 and are perfectly comfortable with it by now. It is a quite successful staging: the huge set rotates to model the different places where the story takes place. Rotating sets can be redundant but this particular one feels new every time the curtain goes up, thanks among other things to a magnificent work from lighting designer Peter Mumford. Richard Eyre has mastered this staging technique: he has proven it in his new production of Le Nozze di Figaro at the Met early this year, also staged around a rotating set. The production is a perfect mix of traditional (no major time transposition, flamenco dancers, elaborated traditional costumes) and modern in its set design and lighting work. All in all we get to see a great show sustained by a solid Met Opera Chorus and an irreproachable Louis Langrée. Elina Garanca and Roberto Alagna appear exhausted for the curtain call, hug each other, visibly as moved as you are: the two artists truly gave everything they had that night. You exit the performance happy with an impression of having seen a rare and ephemeral moment of perfection.
Thibault Courtois
the 25 of February, 2015
|
Print