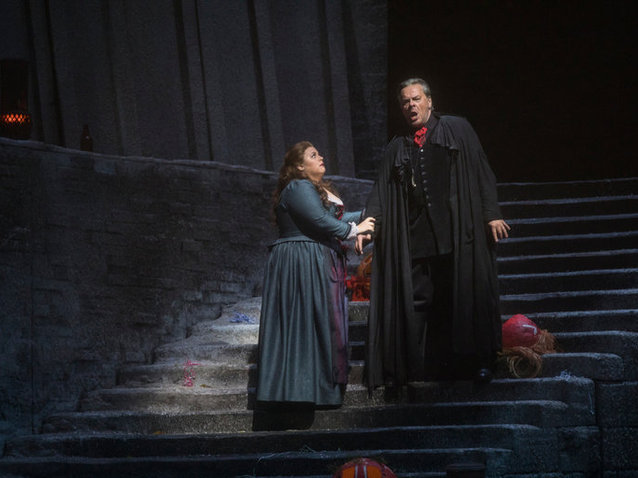 © DR
All Wagner should sound this glorious.
Der Fliegende Holländer is the work of a young Wagner still finding his distinctive voice and style. But it has the (rare) merit of brevity, which allows the best performers to attack it with unstinting energy. At the Metropolitan Opera, under the baton of Yannick Nézet-Séguin, it is taut and thrilling music drama.
From the first moments, the brass section played with an energy that swept me away. Nézet-Séguin kept the instrumentalists on a tight leash, drawing out extreme contrasts in pacing (from racing to crawling and back) and enforcing precise entrances and cutoffs. The end of the overture shimmered.
All the principal singers were excellent Wagnerians and well suited to their roles. Even the smallest characters were luxuriously cast: Ben Bliss sang the Steersman in an effortless, warm tenor, and mezzo-soprano Dolora Zajick used her rich, huge voice in the bit part of Mary. Bass Franz-Josef Selig approached Senta's father Daland as a character role, singing expressively and with not-unpleasant roughness. AJ Glueckert showed off an edgy tenor and a smooth line as Erik, pleading for Senta's love with moving passion.
Soprano Amber Wagner made the perfect Senta—young, dreamy, and a bit foolish. She has a huge voice, gloriously open throughout her range, with an exciting, ringing tone. Her ballad is full of tricky high entrances, but they didn't seem difficult when she sang them. Despite being occasionally drowned out by the sheer size of Wagner's voice in their duet, baritone Michael Volle was a good match for her as the damned Dutchman. His portrayal was quietly intense in anger, love, and despair. His deeply resonant sound had moments of spine-tingling power.
Der Fliegende Holländer has plenty of work for the ensemble as well as the soloists. The men and women of the MetropolitanOpera Chorus were excellent both separately and together, finding that essential and elusive balance between blended and individual voices. The men had a gruff energy about them as sailors, and the women sounded light and lively for their famous spinning song.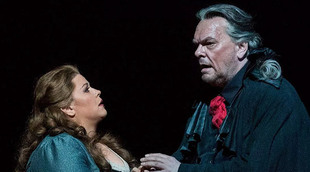 Der Fliegende Holländer - Met Opera 2017
The staging was not at the level of the music. August Everding's 1989 production is creakingly old and sadly lacking in drama. The detailed sets (by Hans Schavernoch) create strong senses of place: a ship in the freezing ocean, a textiles warehouse, and the wharf. The Dutchman's oversized black ship, with its precarious ladder, is suitably ominous. Der Fliegende Holländer loses something in an interpretation this literal; it makes nothing interesting or romantic of the Dutchman's outsider status.
More importantly, the blocking is boring. On these beautiful sets, the singers mostly stand and deliver. It's not that they can't act—all are excellent storytellers, and there are definite sparks between Michael Volle's Dutchman and Amber Wagner's Senta. But when they seem like they should race to each other's arms, they never do. The chorus direction is also lacking. Aimless milling about is the order of the day for the Norwegians, while the ghost sailors move like extras from a low-budget zombie flick.
With a lesser cast or orchestra, these staging shortcomings would sink the show. With this one, they hardly matter. The performers surpass merely sounding great and manage to carry the drama as well.
the 06 of May, 2017
|
Print