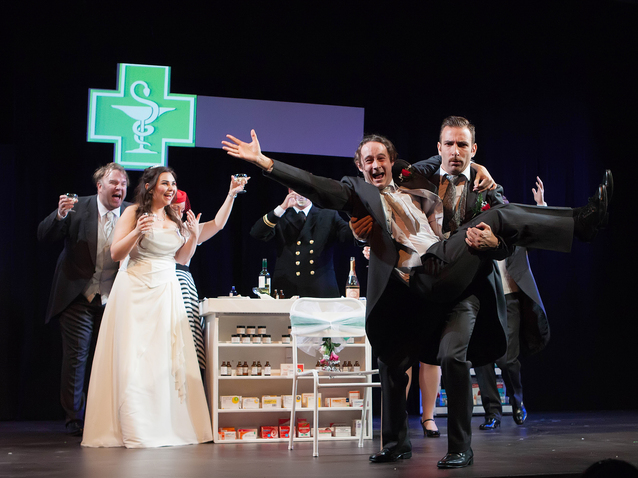 One of the pillars of the successful Wexford festival is the presentations of so called short works. One act operas composed in different centuries giving a strong testimony for the talent of their creators and constitute prestigious rarities of their genre and which have been unperformed unjustly. This year series is put together with two comic examples and one melodramatic.
Gaetano Donizetti's Il Campanello, the night bell, is a mature example of the genius composer full of lovely arias sometimes transferred from other pieces. The process is used here to underline the comic plot: the young Enrico is successfully trying to undermine the wedding night of the young and fresh married Serafina and the old but wealthy pharmacist Don Annibale Pistacchio.
The Bear - Wexford Festival 2016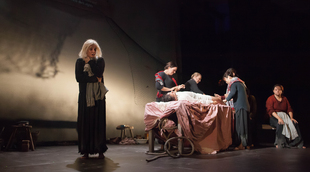 Riders to the Sea - Wexford Festival 2016
Director Roberto Recchia once again created a very lively interpretation perfectly executed by the selected young singers. Recchia, himself being an actor, knows how to involve all parts of the body for demonstrate feelings, emotions and interactions. It is close to exaggeration and parody but remains well within limits of fresh entertaining and serious presentation. Very intelligently, he brings references to modern series and musical trends to cheer up the audience without interrupting the flow of narration.
Enrico brilliantly played and sung by Michele Patti and Don Annibale by his Italian colleague Pietro di Bianco. They both contribute intensively with their Italian temperament. Michaela Parry is the bizarre nymphomaniacs mother in law Madame Rosa and Rachel Croash her daughter, the young bride Serafina. They both offered fine sopranos, rather northern, next to the two full blood Italians.
Tina Chang is in charge of the musical direction. Transformed to piano, she evokes Italian flair and street life ambience in Donizetti's music with her active playing, and even has to contribute some singing in the direction of Roberto Recchia.
Rather, British humour is expressed in William Waltons bittersweet social drama, The Bear, based on a vaudevile by Anton Chekov. Freshly widowed, Yelena finally falls in love with tempestuous Smirnov, a creditor of her deceased husband after having intensively quarrelled with him. Set up in noble English interior design and noble British upper class behaviour by Kyle Lang, Sarah Richmond as Yelena and Rory Musgrave as Smirnov offer a very entertaining hour musically, underlined by Andrea Grant at the piano. She understands well to bring the bizarre conversation into an expressive rhythm and dramatic sound.
Local Irish environment can be experienced in the depressing opera Riders to the Sea by Ralph Vaughan Williams. The audience is confronted with the fate of a mother losing her husband and all six sons to the sea. The depressing life of the poor fishermen and their caring wives, mothers and sisters is pointed out by a melodramatic musical colorization which is fine elaborated by Benjamin Laurent.
The music of Ralph Vaughan Williams expresses the monotony and hardness of the daily life, the dark environment and fate of the low class without any hope left. Lara Harvey appears ghostlike as hard beaten Maurya confronted to her fate. Her final mourning includes relief of having nothing left to loose. Nearly consciousless, mindless her mezzo acclaims spherical sound. The direct, clear and unveiled brutality of the story together with the dramatic music creates a high voltage excitement and touching reality.
Helmut Pitsch
the 04 of November, 2016
|
Print