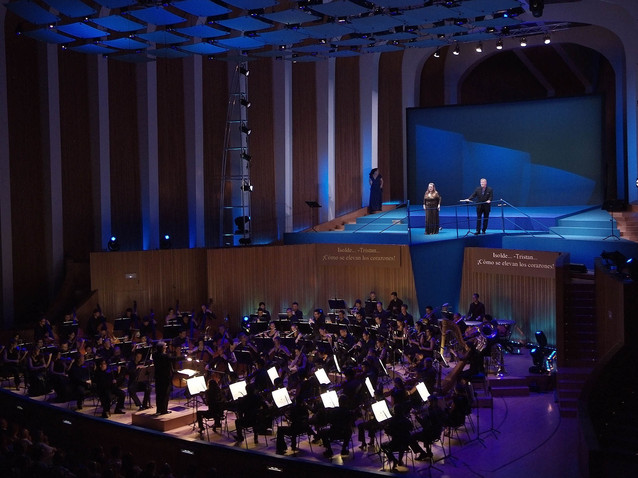 The last performance of the Festival del Mediterrani was dedicated to Richard Wagner, Tristan and Isolde in a "halfstaged" performance.
Valencia´s wonderful operahouse designed by Spanish architect Calatrava is itself a perfect scene. Always compared to a fish or boat, swimming in the water, entering the opera house is the perfect start for the performance. You get yourself on bord of the ship, the performance being held in the opera´ s own concerthall resembling the inside of a ship. A small stage was built high above and behind the orchestra so resulting in the problematic for the singers to compete with the orchestra and Zubin Metha lets them play with lots of ambience, dynamism and engagement. Jennifer Wilson has now achieved an elaborated competence for the role of Isolde. Her voice masters all the deficiencies of the setting. She brings a wonderful sound and harmoniously unifies with the orchestra. Jay Hunter Morris as Tristan has his problems. After a successful Siegfried in New York he still has to get acquainted with this role, text and interpretation. But he could give a glance on to the potential of his romantic tenor and strength of his voice. Ekaterina Gubanova is a young self confident Brangaene, less caring but a honorable friend to Isolde. Her "wake up" appeals were keeping everybody in the house excited. Eike Wilm Schulte remains paintless as Kurwenal, whereas Karl Michael Ebner brings a dark, devious Melot.
Maestro Zubin Metha let this Tristan flow, the house is filled with a full warm and romantic sound - this Isolde did not die but remains in everybodies memory disembarking the ship.
the 04 of July, 2012
|
Print