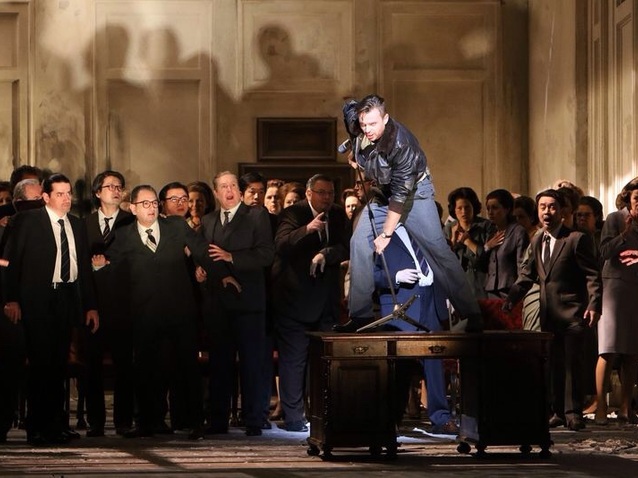 © Wilfried Hösl
This tragic lovestory between youngsters of two rivalizing families is a beloved subject in literature and opera plots. The young Polish director Barbara Wysocka is in charge of this new production of Gaetano Donizetti's masterpiece Lucia di Lammermoor in Munich. She transfers the original medieval story into the modern times: the United States during the 60s with some references to well known Hollywood movies. The stage design by Barbara Hanicka brings the audience into a demolished large, once elegant palace hall, which is cleverly adapted throughout the evening. So there are no interruptions of the flow of scenes and excitement is built up.
The direction lacks of a vivid concept in the acting of the soloists, apart of running around with revolvers or nervously smoking. However, thanks to the persuasive personal acting skills of the singers, the tragedy is catching. Diana Damrau presents Lucia as a young romantic teenager, emprisoned by her brutal brother Enrico - colourless Luca Salsi. Her fall into a deep depression after she has betrayed her beloved Edgardo is central to the composition and the highlight of the evening. Diana Damrau's dramatic sensible voice gentle climb up to the heights of her coloraturas and drop easily to the bottom of her mental illness. As well, Pavol Breslik is convincing as the young rebell Edgardo, a kind of a mix between James Dean in Giant's and Leonardo di Caprio. Good looking himself, his fine tenor brings romantic color and skillful legati, and secure height to his splendid acting performance. Georg Zeppenfeld drives his Raimondo to a central figure of the plot and dominates with his strong expressive bass.
The interpretation of Kyrill Petrenko is interesting in the orchestra pit: his Donizetti is very transparent, clear instrumental seperations create a soft sound carpet, helpful for the soloists and the once more brilliant chorus, prepared by Stellario Fagone. A heavy long applause by the audience in the end, and standing ovations for the stars Diana Damrau and Pavol Breslik.
Helmut Pitsch
the 10 of February, 2015
|
Print