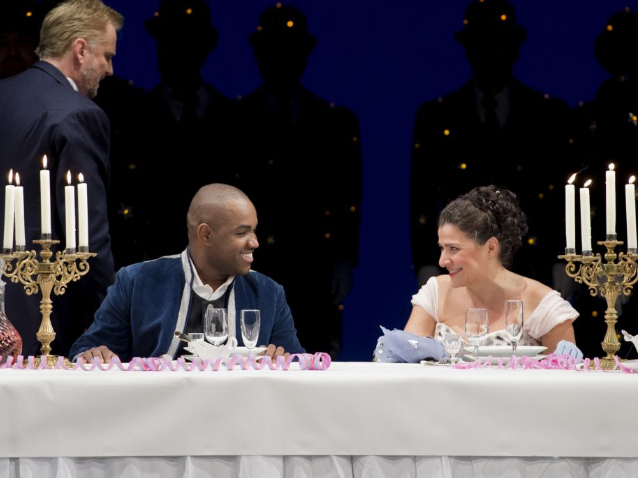 In only 24 days, Maestro Gioachino Rossino created his masterpiece La Cenerentola. The date of the world premiere was fixed even before the title, the libretto or the plot of the opera was known. So once the old fairytale was decided to be the story, Rossini recycled out of former composition and created this opera buffo, including semiseria parts. The first performance was rejected by the audience but soon the work started its triumphal success worldwide, being even the first opera to be shown in Australia ever.
Rossini composed for the Primadonnas of the time and Primadonnas still rely on Rossini's oeuvre. So does Cecilia Bartoli and the Opernhaus Zürich bringing back La Cenerentola on stage in the production of Cesare Lievi of 1994. It is a witty, sensible, colourful and fluent narration with a lot of action. Rossini and Cecilia Bartoli have been linked for more than 20 years, immaculating her performance by acting and singing, even if colloraturas are not as gently and elegant as they used to be.
Lawrence Brownlee is a fine and flexible tender tenor with clear height but his voice seems small in volume. Carlos Chausson is a magnificent Don Magnifico, presenting his skillful humoresque acting and singing. Sen Guo and Liliana Nikiteanu are entertaining comedians, her voices are well balanced to their characters as the two sisters. Shenyang dominates as Alidoro, mostly because of his impressive stature than his singing.
Giancarlo Andretta swings a lot by conducting but his musical sensibilty affects the young orchestra with a vivid emotional and very Italian play. It is rhythmic, fine and transparent, the volumes are well timed. The audience laughs heartily and is well entertained. There is a strong final adoration for Primadonna Cecilia Bartoli but all of the artists get their share of applause.
Helmut Pitsch
the 12 of January, 2015
|
Print