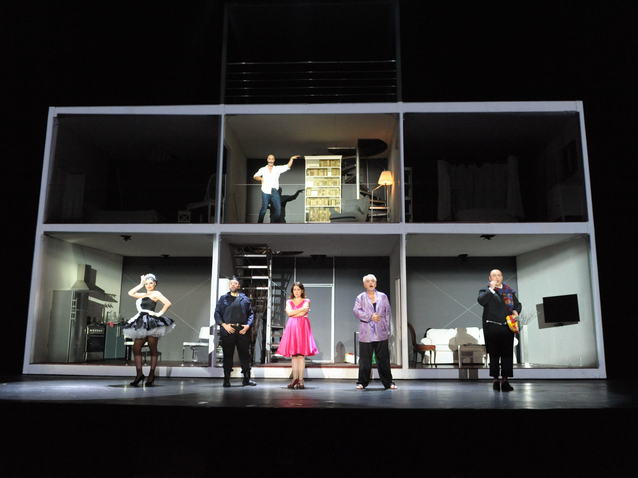 © Opera national bukarest
The National Opera of Romania opens the new season with a tribute to Italy, a country and culture which is close to the temperament of this proud country and its strong music tradition. Constructed in 1953 in a splendid classic building, it is home for the opera and ballet company and offers a seating capacity of 900 persons.
Italian Marcello Mottadelli is the new artistic director and has invited an Italian team for the new production of Gioacchino Rossini Il Barbiere di Siviglia, including him as conductor. It's his first time to conduct this opera and he succeeds well, with a very Italian sound – full of swing and rhythm. With temperament, the strings take over a great part and create a full orchestral sound. Cautiously the musicians approach in the overture, soft and intimate Rossinis themes get flowing to increase lively. Precise and clear is the confluence of instruments and singers whereas they sometimes get overtaken.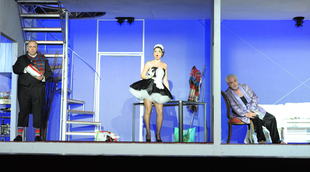 Il Barbiere di Siviglia - National Opera of Romania
(c) Paul Buciuta/Revista Tango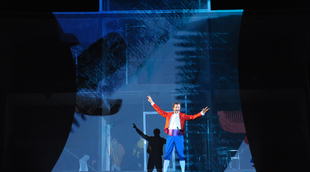 Il Barbiere di Siviglia - National Opera of Romania
(c) Paul Buciuta/Revista Tango
Matteo Mazzoni is a young and promising director who has worked with different reputable international directors so far. He transfers the story into modern times adapting the characters accordingly and lets a lot of action happen with numerous interfering details. A concept which has been used cleverly in other production. Being responsible for stage, costumes and light, he has designed a very Mediterranean environment. Supported by light and video installations, we are in front or inside the house of Don Bartolo and we can follow all persons in every corner of the house including the sexy sunbathing on the terrace.
Strange without a modern identity remains Don Basilio. A lot happens in the auditorium as soldiers lining up, and the Maestro is involved too. Once in a while flat gags cheer up the audience. Especially female roles are pepped up to feel contemporary. Rosina is a self-confident personality, independent and revolting in modern lingerie. Soprano Marina Comparato brings a natural talent for acting as a modern teenager but her voice lacks a fine young and silver height necessary for belcanto. Her intonation comes from below and lets her timbre aged and dark. The maiden Berta feels exotic in her sexy dress and behaviour like a French revue girl. Ana Donose is offering a good portion of sex-appeal and combines it with safe distinguished singing. Local Iordache Basalic is the clever and omnipresent barber. With his red long uniform coat and his bold head with a weird moustache, he really seems a factotum a bit off reality. But his singing is fine, real and competes well with the orchestra. Rather poor and with a small flavour of comedy is the performance of Alessandro Luciano as Almaviva, a kind of star role for tenors. His voice has all the necessities apart size and volume. So Roberto Abbondanza as a brilliant Don Bartolo and Ramaz Chikviladze as a pitiful outsider Don Basilio win the hearts of the audience with their lively and charming performance. His bass is mighty and impressive, his baritone a good example for lyric elaborated singing. Long standing ovations for everybody participating mark well the quality entertainment.
by Helmut Pitsch
Photos credit: Paul Buciuta / Revista Tango
the 16 of November, 2016
|
Print