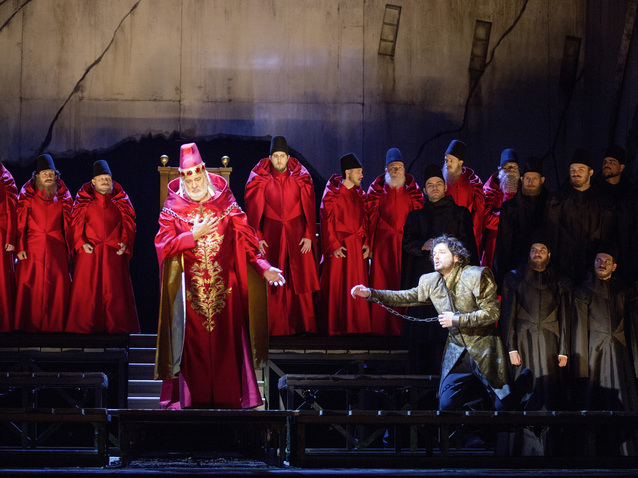 After Los Angeles and Valencia, this production has arrived at the Theater an der Wien, Vienna's third opera house having a long impressive history and tradition. Its origin is closely linked to the impressario Emanuel Schikaneder, Mozart's libretist for The Magic flute. In recent years, it has been focussing on presenting cutting edge directors and interesting productions.
Verdi's I due Foscari followed on the success of his Ernani, was first presented in 1844, and is based on a play by Lord Byron about the miserable story of the Foscari family, political ambition and tragic cruelty, hate and revenge. The direction of the American Thaddeus Strassberger does show none of this. It is more a setting to present the star of the evening at its best. Placido Domingo creates the atmosphere of the inner conflict of the old Francesco Foscari, his sorrow but more his desire of power and political strategy as the Doge of Venice. Being himself over seventy the clearness, strength and color of his voice dwells impressive. His presence and play on stage dominate. Young Mexican Arturo Chacon-Cruz fits in the role of the desperate and unlucky son and family father himself. It is a demanding part mastered by his tenor. Davinia Rodriguez has difficulties as his wife Lucrezia. Her soprano lacks fine color and smooth legato, and her play is clumsy.
James Conlon knows how to conduct Verdi's early works, but missed the bridge to the stage and the respect for this fine and small theatre. His fortissimi and volume changes are rough. Intimate moments are rare, and if so, they are affected. Stage design is simple, not too creative. Simple effects are generated by colorful costumes and perspectivity.
Placido Domingo's admirers have once again a persuasive example of his incredible talent.
Helmut Pitsch
the 05 of February, 2014
|
Print