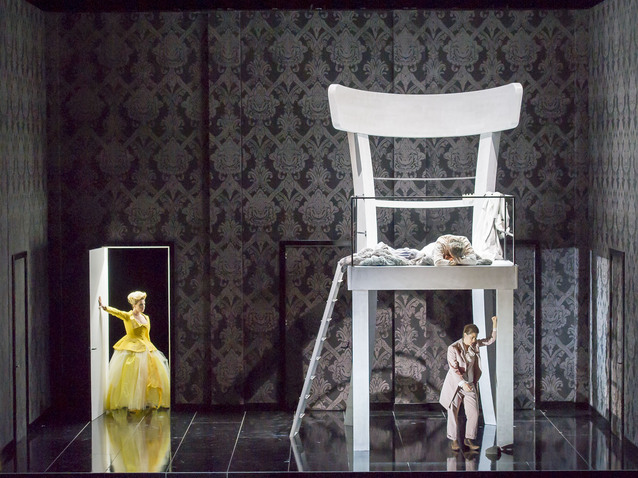 The festival Alte Musik in the Tyrolean capital Innsbruck has built up its reputation for their presentation of operas in traditional but elaborated and well balanced interpretations played on original instruments and sung by young promising singers. This year Mozart ´s la clemenza di Tito was selected in the version of the Kaerntnertortheater (1804) created by Johann Simon Mayr and Joseph Weigl. They wanted tó " italianize" this opera seria and added further arias - lacking Mozarts charme and talent - no mercy for the grand composer. Alessandro de Marchi, artistic director of the festival similar lacks motion, easiness and humour when conducting the Accademia de montis regalis. Recitatives have been accompanied by celli and contrabass - so giving all an additional dark and heavy sound.
Young German director Christoph von Bernuth brings Tito in a modern setting. The emperor resides on a XXL bright white chair and steps down to the world of his servants to flatter his beloved Sesto or searching for a wife. The intrigue spun by Vitallia develops, the masses revolt and Tito's palace falls into ruins, the throne burned down and the walls in ashes as well as Tito's plans. We were able to experience his despair and inner conflict perfectly sung and played by Carlo Allemano with his bright and fine tenor. Vitallias anger, envy and greed for revenge is convincingly demonstrated by Nina Bernsteiner in poissonyellow. Kate Aldrich as Sesto feels strained and unlyric.
Excellent Ann Beth Solvang as Annio and Dana Marbach as Servillia.
the 13 of August, 2013
|
Print