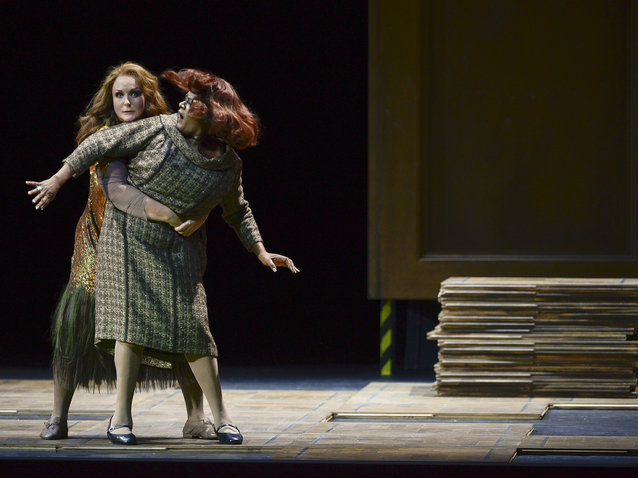 What a story, what a character Richard Strauss and his co-genius Hugo von Hoffmannsthal have created here at the beginning of the 20th century. The expressive music and the female wild brutality were shocking and affecting the audience at the same time. Elektra, full of grieve, is seeking for revenge for her beloved father's death, accusing her mother and stepfather, exposing herself in front of the palace as a living monument of self destruction, desire up to mentally defection and craziness.
There is so much expression and thrill in the composition and story which lacks of transfer onto the stage in this production by Barbara Frey. Her stage designer Muriel Gerstner sets the plot into a noble cool wooden reception hall in a kind of fascist architecture. The servants are elegantly dressed ladies like in a noble English household. Elektra is hidden in a small hole in the wall, dressed like a partygirl in a golden glittering dress with a fur decoration demonstrating well her female curves. Irene Theorin works hard in her stage appearance to produce necessary excitement in her tense conflicts with the court life. Her voice shows sharp contours in the tops, even forced with pressure, whereas her middle and lows bring warmer sound and word understanding. Richard Strauss created most demanding female roles guiding the artists to their vocal limits and high performance. It is up to Waltraud Meier, the well experienced singer to set up all the intended dramatic power and expression of the music as the most crual and hated Klytämnestra. She is the mother and enemy of Elektra, seeking for relief and defending her power in her encounter with her daughter. Even Waltraud Meier's dress is all but aristocratic and elegant, she is royal, court like, self prisoned in her greed and desires. It is the highlight of the evening when the two ladies clash together, accompanied by the perfectly playing Saxonian Staatskapelle under Axel Kober's direction, who forms contemplative sound volumes to support the singers in their interpretation. Lot of the inner conflicts and emotional irrational behavior are expressed in the music and the conductor lets erupt the overflows in voluminous forte, abruptly transformed or transported to broad romantic sound carpets. Camilla Nylund accomplishes as Chrysotemis the female cast. She is torn between her obedience to her mother and sisterly love. Her girly-like play together with her bright soprano fits. Markus Marquardt is a gentle Orest, elegant but the director does not set feelings and decisiveness into his play, his small bass does not fresh up this image.
The revenge succeeds, brutal, hard and heavy the music falls over the audience, a short silence as a sign of relief steps in before the applause grows to a long and loud honoration.
Helmut Pitsch
the 02 of November, 2015
|
Print