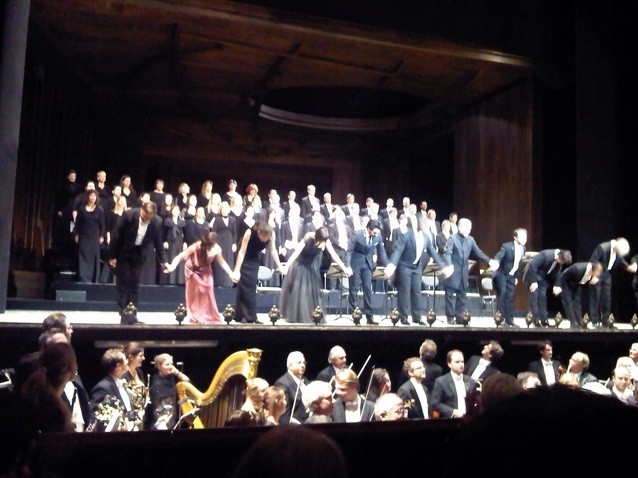 Charles Gounod definitely plays an important role in the development of classical French music. His voluminous musical heritage includes all genre whereas lyrics and the 'song', in particular under the French form of 'melodie,' are central. He has created 12 operas of which only Faust and Romeo and Juliette remained in the calendars of the Opera houses. So it is most honorable that Palazzetto Bru Zane, the centre of romantique French music has chosen Gounods opera Cinq Mars for a revival projects. This opera was first presented in 1877, 10 years after the success of Romeo and Juliette. The audience politely accepted the piece, but it did not achieve a long term success.
The plot is based on some real facts but was transformed to the story of a love affair at the French court of Louis XIII and a plot against the then almightyCardinal Richilieu. The Marquis de Cinq Mars, a semantic variation of Saint Medard, and the Princesse Marie de Gonzague, who is chosen to marry the Polish king unveil their secret love. The hero and his brotherlike friend de Thou join a plot against the Cardinal. Cinq Mars and the Princesse Marie strenghten their love in a hidden marriage which is discovered by the Cardinal. In order to save the life of her beloved, Marie agrees to the marriage with the Polish king. Cinq Mars is arrested for his participation in the plot and is desperate, because of Marie's obvious betrayalof their love. A last attempt of Marie to save them all fails and the treators are executed. Charles Gounods music is full of romantique fluent melodies, baroque ballet scenes enrich the colourful partiture and numerous chorus scene bring dramatic power. Several arias and cantabile document the composers ability of creating simple popular folklike melodies clever accompanied by instrumental and harmonious variations to reach romantique plentitude of bright sound and volume.
The Muenchner Rundfunkorchester and the Chorus of the Bavarian Radio under the guidance of Ulf Schirmer have partnered with the Palazzetto Bru Zane. Their presence and perfect preparation are the strong base for this brilliantly realised revival. The power of the orchestra is vividly and sensitvely tamed by the conductor. There is enough room for the choir and soloists to exprime the necessary nuances of their presentation. Charles Castronovo as Cinq Mars masters the balance of a dramatic hero and a loving young aristrocat. Veronique Gens remains dry and stiff her voice showing first signs of tremolo and dramatic overloads. Convincing Tassis Christoyannis makes de Thou a real symbol of deep true caring friendship. Marie Lenormand and Norma Nahoun accomplish the well selected cast as joyful Ninon and romantique Marion, the latter presenting the famous arie about ' Tendre' the land of tenderness. Another perfect example of Goundods mastership. A hearty and hefty applause by the audience merits the efforts in realising this worthwile re discovery of another precious piece of opera.
Helmut Pitsch
the 30 of January, 2015
|
Print