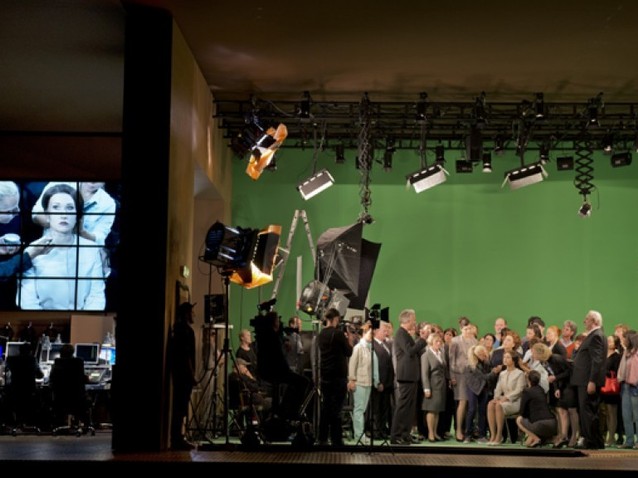 Would we witness the 19th century fairy tale scenery on stage, again? Would we be bored by a "normal" love-jealousy-revenge story as basis for brilliant singing and superbly instrumented orchestra playing, wondering why opera still made into the 21st century ? One can easily imagine by reading the plot before the performance. Not so when the curtain of this production rises ! Not so with Dmitri Tcherniakov ! Tcherniakov embeds the traditional plot into the reality of today's media and archetype political environment. The Tsar stars as an electronic homunculus (unreal) figure, but real enough a (supernatural) power (designed by an bureaucratic apparatchik) to uncover all too familiar human peculiarities "humanity" is famous for for centuries. The contemporary personnel of the opera exemplifies familiar entourage and spheres of today's life (like the political leader, the bureaucrats, fathers, families and of course the ever-present virtual reality of e-mails and modern media – like the kind having existed before in different appearance), and the power and suppression they induce or provoke on groups or the individual in a society. Provoking also means a release of self-abandonment or self-suppression as can impressively be studied in Marfa's (extended) family's behavior awaiting the Tsar's (as an unreal authority) decision for her as his "Bride". Nobody surrenders her faster than her lover Lykow and her own family. They can hardly await the news over the whole third act – only to lead her into her later ruin to the unknown.
The musical characterization of the drama's personage so plausibly touches the audience of today. Powerful and at hight of her vocal strength Anita Rachvelishvili portrays the passionate Ljubascha. Olga Peretyatko stars as Marfa (The Tsar's Bride) and is somewhat buried by the overwhelming video effects during her mad scene. Particularly strong Johannes Martin Kränzle as Grjasnoj and Pavel Cernoch as Marfa's lover Lykow. Anatoli Kotscherga and Anna Tomowa-Sintow rightly received strong applause for their impressive interpretations.
Daniel Barenboim and his orchestra - the Staatskapelle Berlin - performed brilliantly the beautifully eclectic music of an in Germany mostly unknown Russian opera composer.
Achim Dombrowski - Hamburg
the 26 of February, 2014
|
Print