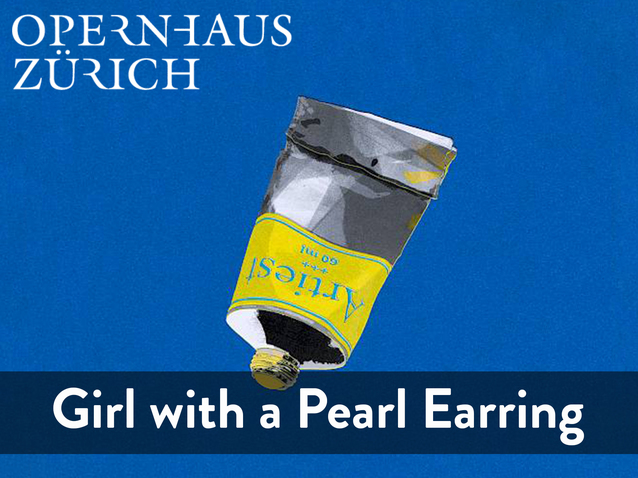 © Copyright all right reserved
General Information
Production title :

Girl with a Pearl Earring - Opernhaus Zürich (2022)

Creation date :

03/04/2021

Work - Composer :

Girl with a Pearl Earring

-

Stefan Wirth

Opera house :Opernhaus Zürich.
Description
World premiere, which was originally scheduled to take place in 2020.
Her gaze is gentle yet penetrating. She is the girl with the pearl earring, and it seems as if she has just turned to gaze in surprise at her portraitist – the painter Jan Vermeer. The Girl with a Pearl Earring, the Dutch master's famous portrait study, is a snapshot of mysterious beauty. In her novel of the same name, bestselling author Tracy Chevalier from the US brings the painting to life, inventing a thrilling narrative about the artist and his muse. Her name is Griet, and she's the daughter of an impoverished family in Delft. She is hired as a maid in Jan Vermeer's home. Her days are filled with hard work, and Vermeer's children tease her. But while cleaning his studio, she is treated to the painter's mysterious use of color, light, and perspective. When Pieter van Ruijven (Vermeer's patron and a philanderer) commissions a portrait of the girl, Griet starts spending more time alone with the artist in his studio. Until Vermeer's wife catches sight of the painting, and of one of her pearls on the girl's ear…
The Zürich Opera house commissioned Swiss composer Stefan Wirth to create a musical work for the stage based on the story, which had already been successfully adapted for the screen. Wirth lives in Zurich and is one of the most exciting composers of his generation. He is no stranger to the theater, and his writing belies his commitment to a modern musical theater that is simultaneously reflective and sensual. In addition to his compositional output, Wirth has made a name for himself as a pianist and virtuosic interpreter of contemporary works.
Schedule
April 03, 2022 19:00:00
April 07, 2022 19:00:00
April 09, 2022 19:00:00
April 16, 2022 19:00:00
April 24, 2022 14:00:00
April 29, 2022 19:00:00
May 06, 2022 19:00:00
May 08, 2022 20:00:00
Work's characters list
Director
Conductor
Griet
Jan Vermeer
Catharina Vermeer
Maria Thins
Pieter
Tanneke
Van Ruijven
Griet's Mother
Child engine